NEWS

Oliver Drechsel receives
1. prize in 19th Siegburger Composition Competition 2007
for "Three lieder for voice and string quartet"
---
NEW "Christian Gottlob Neefe - 12 piano sonatas"
Volume 10/11 of "Denkmäler Rheinischer Musik"
of Working comittee for Rhenish Music History
Edition with two compact discs (Oliver Drechsel)
edited by Walter Thoene with a foreword of Inge Forst


Oliver Drechsel presents the 12 sonatas of Christian Gottlob Neefe
together with the three "Kurfürstensonaten" of his scholar Ludwig van Beethoven
in a production of Verlag Dohr, using on the first CD a clavichord, on the second CD a grand piano.
Recorded at Beethoven-Haus Bonn, Kammermusiksaal Hermann J. Abs


---
NEW SCORE:

NEW CD: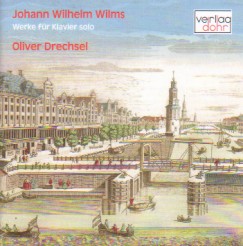 ---
MANY THANKS
for
EUR 10.000,-
in favour of the project "school in a box" for seaquake-regions in the Indian Ocean
at benefit concert with Dagmar Spengler, cello and Oliver Drechsel, piano
on January, 30th, 2005 in evangelic church Grabenstraße, D-40789 Monheim am Rhein

---
A clacker at beginning of season
Kiel´s piano concerto and Mozart´s "Jupiter-Symphony" / Top Class in Bad Berleburg

"[...] The unimpeachable clacker has admittedly been offered by the cultural office of Bad Berleburg: Friedrich Kiel´s (1821-1885) piano concerto Bflat-Major op.30. [...] Drechsel´s high art of piano playing took the central role of the evening [...]. Drechsel not only met the high technical requirements at every time, but also furthermore proved - especially in the campy middle movement Adagio con moto - his dower for subtle interpretations.