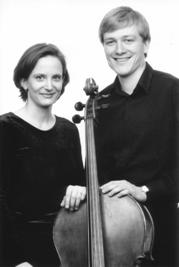 Duo Spengler & Drechsel
The Duo Dagmar Spengler (solo cellist of Staatskapelle Weimar) / Oliver Drechsel exists since 1998, when both artists first play together at the concert exam of a fellow student at Hochschule für Musik Köln. This causes in the first instance, that Oliver Drechsel – after his own concert exam – has been duo partner of Dagmar Spengler at her concert exam.
Since then, regular concert activities take place, for example in the series "Live Music Now" by Lord Yehudi Menuhin as well as benefit concerts for the cultural forum Solingen-Minsk under patron Vladimir Ashkenazy or for the seaquake-victims in the Indian Ocean 2004.
Next to the usual repertoire for cello and piano (Beethoven, Chopin, Mendelssohn, Schumann and other) both musicians apply themselves to rarely known composers of different epochs; in Verlag Dohr (Köln) a CD has been published, which contains apart from the sonatas of Prokofjev and Britten world premiere recordings of "Carmen Fantasy" and "Elegy" of the british composer Buxton Orr.
---
program suggestions
"1832-1982" [music for cello and piano out of 150 years]
Frederic Chopin
Grande Duo concertante (1832)
Richard Strauss
Sonate F-Dur (1882)
Dmitri Schostakowitsch
Sonate (1934)
Astor Piazzolla
Grand Tango (1982)h
"Sheer German Romantic"
Robert Schumann
Fantasiestücke op.73
Friedrich Kiel
Drei Stücke op.12
Robert Schumann
Fünf Stücke im Volkston op.102
Friedrich Kiel
Reiseerinnerungen (Auswahl)
Friedrich Kiel
Sonate D-Dur
"Two worlds" [music of "german romantic" and "english modernity"]
Robert Schumann
Fantasiestücke op.73
Benjamin Frankel
Three Poems op.23
Friedrich Kiel
Drei Stücke op.127
Benjamin Brittenl
Sonata
Buxton Orr
A Carmen Fantasy
"From Baroque to the Classical Period"
Benedetto Marcello
Sonate Nr.3 a-moll
Antonio Vivaldi
Sonate Nr.3 a-moll
Stephen Paxton
Sonata in A op.1 Nr.1
Luigi Boccherini
Sonata Nr.1 A-Dur
Georges Onslow
Sonata A-Dur op.16 Nr.3
"Musical Triangle" ["Classical pieces" from England, Russia and Germany]
Georges Onslow
Sonate A-Dur op.16/3
Sergej Prokofjev
Sonate C-Dur op.119
Ludwig van Beethoven
Sonate g-moll op.5/2