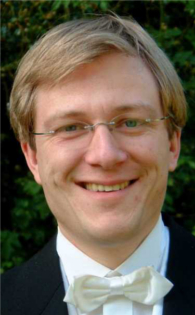 vita
Oliver Drechsel teaches piano at the Music Conservatory in Cologne. He began his piano lessons with his mother and later studied piano with Roswitha Gediga-Glombitza and in the master class of Pavel Gililov at the Music Conservatory in Cologne. He enhanced his pianistic studies, which he concluded with the concert exam, by participating in various master classes, including those held by Karl Heinz Kämmerling Peter Feuchtwanger and the Alban-Berg-quartet. In 1998 the Debut-CD of Oliver Drechsel playing Jürg Baur´s completed piano works was recorded and he was awarded a prize to promote young artists – the "Rheinischer Kulturpreis". In 2003 he was honoured by participating in the series "Best of NRW" (Best of Northrine-Westphalia).
For several years Oliver Drechsel has also focused on the recording of piano music of the 19th century, playing on authentic historical instruments from the collection of Dohr in Cologne. He is recording the entire piano works of the renowned romantic composer Friedrich Kiel (4 of 7 CDs already published), piano works of the early romantic composers Johann Christian Heinrich Rinck (the first Rinck-CD was "star of month" 6/2003 in "Fono Forum") and Christian Gottlob Neefe as well as piano sonatas of the romantic composer Ferdinand Hiller. To a large extent these are world premier recordings.
In addition to his solo recitals and concerts (including those in the elite-series "Best of NRW") as well as radio broadcasts (Westdeutscher Rundfunk, Radio Suisse Romande) and CD-productions, he is actively engaged in chamber music. He performs regularly with Dagmar Spengler (solocellist Staatskapelle Weimar), Gernot Süßmuth (principal violinist Staatskapelle Weimar), Andreas Herkenrath (solo bassoonist Klassische Philharmonie Bonn), Berthold Große (solo bassonist Royal Opera Stockholm) and Philipp Hoferichter (tenor, Opera House Cologne).