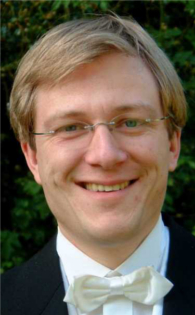 vita
Oliver Drechsel (*1973) teaches piano at the Music Conservatory in Cologne and is also a successful composer, an author of works about music, an editor of music editions as well as an artistic director of some concert series.
He began his piano lessons with his mother, the concert pianist Ruth Drechsel-Püster. He majored in piano at the Music conservatory in Cologne, where he studied with Roswitha Gediga-Glombitza and Pavel Gililov. Subsequently he rounded off his musical education by participating in master classes held by Karl-Heinz Kämmerling, Peter Feuchtwanger and the Alban-Berg-Quartet. In 1998 the Debut-CD of Oliver Drechsel playing Jürg Baur´s completed piano works was recorded and he was awarded a prize to promote young artists – the "Rheinischer Kulturpreis". In 2003 he was honoured by participating in the series "Best of NRW" (Best of Northrine-Westphalia).
For several years Oliver Drechsel has also focused on the recording of piano music of the 19th century, playing on authentic historical instruments from the collection of Dohr in Cologne. He is recording the entire piano works of the renowned romantic composer Friedrich Kiel (4 of 7 CDs already published), piano works of the composers Johann Christian Heinrich Rinck (the first Rinck-CD was "star of month" 6/2003 in "Fono Forum"), Johann Wilhelm Wilms, Christian Gottlob Neefe as well as piano sonatas of the romantic composer Ferdinand Hiller. To a large extent these are world premier recordings.
As a composer, Oliver Drechsel received first place in the "International Composition Competition in Siegburg" 1997 and 2007. In 2013 he got a special prize of "Engelbert-Humperdinck-Freunde" for composing a "Hänsel and Gretel"-Fantasy for cello duo. His compositions are mostly published by Verlag Schottstädt (Mainz) and Edition Dohr (Cologne). In 2018, he got an invitation by Susanne Kessel to take part at her project "250 piano pieces for Beethoven". Therefore he wrote "Dreaming of E", for which film producer Artur Brauner became "score-godfather".
As an author he was commissioned by a special committee which deals with the Rhineland's musical heritage, to write about the life and works of Jürg Baur, and was the editor of several volumes of piano music in the series "Denkmäler Rheinischer Musik" (Neefe, Wilms, Hiller).